SEPTIC PUMPING & DRAIN CLEANING SERVICE
24-7 EMERGENCY SERVICE AVAILABLE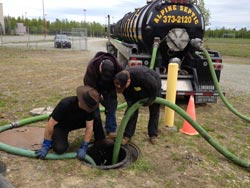 Commercial and Residential Septic Pumping
Alpine Septic LLC is the premier septic tank pumping service in the Mat-Su Valley. We have been pumping and servicing septic tanks and systems since 1985.
We provide a variety of other services to the Wasilla, Palmer, and greater Mat-Su Valley area. We are a family-owned local business and take pride in providing our customers with fast, friendly and professional service.
Septic Tank Pumping
Drain Cleaning
Sewer Inspection Camera
Steam Thawing
Lift Station Repair
Water Jetting – Cold Water
Water Jetting – Hot Water
Line Locating
Complete Septic Pumping & Drain Cleaning Services
Drain Cleaning Service
Clogged drain lines, septic lines, or residential toilet or sink lines are very common. We offer professional drain cleaning service using safe and effective methods to clear clogged drains and blockages in main lines and pipes.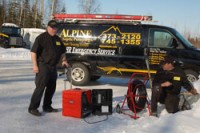 Video Pipe & Sewer Inspection Camera
We have state-of-the-art sewer inspection cameras. We can perform an internal inspection of your sewer or septic line.  We can troubleshoot existing systems to find the causes of problems before potential expensive or unnecessary excavation.

Steam Thawing
In Alaska, sewer lines, mainlines, and culverts can become frozen and require steam thawing to restore service. Frozen lines can overflow and potentially cause major damage to property.

High Pressure Water Jet
Our water jet equipment is very helpful to clear tough clogs in drains and lines. A high pressure water jet can clear tough clogs like grease or impacted baffles more effectively than most other methods.

Septic Tank Installation
Our partners at Northern Dirtworks have been meeting the excavation needs of home and business owners in the Valley for years. They are expert excavators in septic installation and repair, water lines, land clearing, driveways, and foundation excavation. Give them a call at (907)357-2552.

We Sell Bio-Clean Products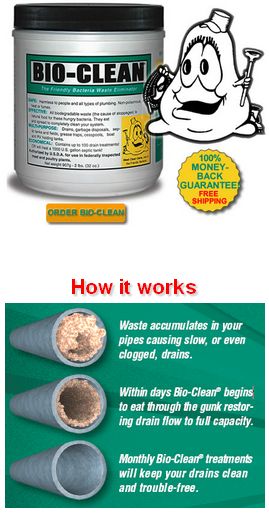 Like Us On Facebook
Family Owned Business Providing Professional Service
Our customer can save time, money and the environment by proper septic maintenance. We focus on educating our customers about septic services through this web page, informational brochures, and telephone and internet inquiries.
We have served the community by various donations throughout the years and are especially proud of our Cans for Discount program which is further described under the Specials & Discounts tab. This company has greatly expanded our list of services such as mainline and small drain cleaning, video camera inspections, hydrojetting, and steam thawing.